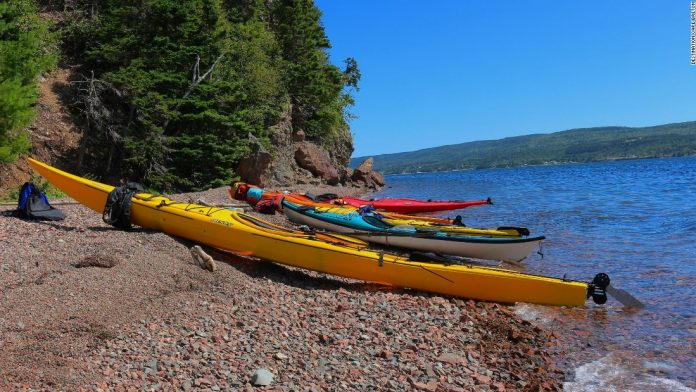 Paddling in a surf kayak is the ideal activity for a moving meditation. It's a symphony of sky, land and water that lends itself to experiencing that elusive "be in the moment" state. Or, you can go for the adrenaline rush of rapids. Kayaking provides flexibility in getting you to either state of being.
And all you need for your moving meditation or rousing ride are just a few key pieces.
You can rent what you need from an outfitter that specializes in watercraft. If you've never been kayaking before, consider a guided tour to surf kayak. Do an online search for "kayak rentals" and your state, and you'll see outfitters and guides pop up. There will be a variety of trips offered, ranging from trips that last just a couple of hours, to half-day, all-day, and weekend excursions. You will benefit from having the company of a group, a knowledgeable guide offering practical advice—and you'll get to try a mainstream kayak on for size.
There are several styles of mainstream kayak to suit the type of water you'll be paddling. Kayaks run the gamut from use in calm water to white-water rapids—which is where the promise of the chill and thrill spectrum comes in.
For a slower pace, there are sit-on-top kayaks, swift kayak and touring kayaks. A sit-on-top is literally just that: a kayak you sit upon, legs unconstrained. It works well in creeks, lakes and slow-moving rivers—and for anyone who hasn't practiced the skill of exiting a more confined arrangement should your kayak tip. They're less maneuverable than a kayak designed to whipsaw through white-water rapids, but provide greater stability while you're learning how to paddle. That's the beauty of test-driving a rental first.
What To Wear and Carry On Your Kayak Trip
The season will determine your clothing choice. For the warm, summer months, you can wear shorts and a tank top. For shoes, strap-on water sandals work well. You won't be worried about getting your feet wet, and your shoes will stay on better when you put your kayak in the water. Mucky bottoms tend to eat flip-flops right off your feet.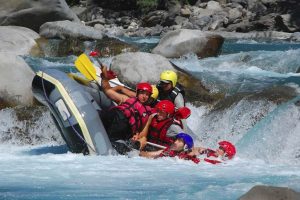 For the colder months, you may want to consider a full-length wetsuit—just in case you should tip in. There are also options for shoes that will keep your feet warm and dry, and gloves and headwear. Like most outdoor activities, you can get very elaborate in your gear, but the most basic gear includes a paddle and a life jacket. You'll also want to pack some food and drinking water, your cell phone, sunscreen, sunglasses and a hat. Many rental companies also rent gear, so consult with their staff for recommendations.
Where To Put Your Kayak In
You don't need to live right next to a body of water in order to kayak. If you're headed out on your own, the Department of Natural Resources for your state can provide public water access points where you can drive your car up, drop your kayak in and be on your way.
Kayaks aren't heavy so much as bulky and awkward to carry. Online sources offer practical advice on how to maneuver that bulk, and a little practice will soon have you hefting that kayak like a pro.
Kayaking For Fitness
Jodi Bigelow, a downriver racing World Champion and owner of Paddlefit, has authored Kayaking For Fitness: An 8-Week Program to Get Fit and Have Fun [The Heliconia Press, 2008, ISBN 978-1-896980-37-9]. In it he shows readers of any age or fitness level how to use a kayak to get a great low-impact, full body workout, or how to use kayaking as a cross-training activity to complement other sports like running, swimming and cycling.
Equipment, Technique and Safety
The first half of the book is devoted to basic equipment, proper paddling technique and safety. It serves as an informative introduction to beginning paddlers, or as a refresher and reference for those familiar with the sport. Every few pages Bigelow adds a tip, aimed at average or advanced paddlers, showcasing his knowledge in the form of offering friendly advice.
The author is very descriptive and goes into a lot of detail on how to choose kayaks, paddles and other equipment that is best suited to particular body types and purposes for kayaking. By using correct equipment and paddling on safe waterways, there is little risk for injury because kayaking is a low-impact sport. Many athletes, recovering from injuries in other sports, use kayaking to maintain their physical fitness levels.
Fitness and Training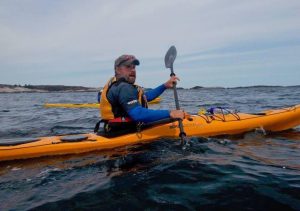 The second half of the book begins with the principles of training, describing heart rates and workout zones in detail in order maintain exercise at the preferred intensity level. Bigelow emphasizes stretching both before and after a workout, even a low-impact workout, to reduce soreness in tired muscles.
The first four weeks focus on developing stamina and general fitness. The workouts develop the muscle groups specific to kayaking, especially the shoulders and the core, while also developing a stronger paddling technique. For example, one day focuses on straight arm paddling (paddling with the elbows locked) which forces the kayaker to rotate the torso for the strokes.
The second four weeks focus on developing strength and endurance. The purpose of this section is to continue to improve paddle strength. Each training session is longer and sprint workouts are introduced to build up endurance.
The program is designed to include four workouts per week, with rest days in between to allow the body to rest and recover.
Finally, the book concludes with ways to train off the water. Several sports, such as running, cycling, and swimming are options for when the weather does not cooperate with training on the water or if the location does not allow for year-round paddling. Rowing machines and videos, such as Kayak Fitness, offer other ways to strength train.