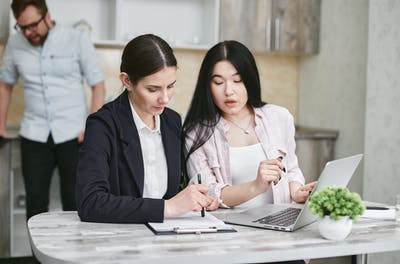 Minority business grants can be an extreme help for business owners and entrepreneurs who don't currently have the resources to fund their business's needs. There are a number of grants available for minorities; this information is intended to help those individuals take advantage of the resources that the government offers.
Start with a Great Business Plan
It's important for business owners and entrepreneurs to start with a great business plan. A business plan lays out the goals of the company, what is needed in order to make it succeed, who the target market is and much more. A business plan can really help business owners and entrepreneurs focus on the main needs of their businesses and can help to convey those needs to grant panel reviewers. Business plans should be well organized and formatted in an easy to read manner, including no typographical or grammatical errors. Some individuals hire professional writers to do this for them.
Join Supportive Minority Organizations
Joining minority business owners' organizations and associations is a great way to stay connected to others who can offer insightful advice and tips for getting government grants for minorities. It's also a great way to learn about the latest government grants being offered for minority business owners. A few helpful organizations include the Minority Builders Association, the National Indian Building Association, and the Association of Black Women Entrepreneurs. This is a great idea for all minority business owners and can help a great deal to secure minority grants for business.
Check out the Small Business Association
The Small Business Association works with all business owners, but also provides vital information about business grants for minorities. The SBA also offers low to no-interest loans for business startup and needs. There is a lot of other information offered by the SBA, including tips and suggestions on how minorities can make their businesses more successful. It's a great resource that all business owners should take advantage of, especially minority business owners. Learn more at the SBA's official website, SBA.
Visit Business.com to Find Your Minority Government Grant
Business.com is an important resource for finding out which kinds of minority business grants are available from the government. Also included on this website is information about other types of funding, including low interest loans and more. Visiting this website often can keep entrepreneurs and minority business owners up to date on the most recent minority grants available. This is a valuable website in other ways as well. With important tips for creating a successful business, launching a brand new business and more – this site is valuable for anyone considering opening a business or those who already own one. Learn more at Business.com.
Check out Grants.gov
Grants.gov is another important site where minority business owners can stay up to date on important grant information. Using keywords, business owners can search for grants geared specifically toward them.
By using the tips and information above, minorities can successfully secure minority business grants to help launch and grow their businesses – making them as successful as possible.
Grants for Minority Women
Grants are helpful solutions for individuals starting a project or faced with a need that they cannot fund themselves. There are grants available for specific types of individuals, such as minority women, that help those individuals with certain situations. We will now discuss proven tips to help women receive minority grants and business start up funding.
Visit Grants.gov
Grants.gov is a very helpful site that provides a keyword search tool in which browsers can type the kinds of grants they're looking for. Minority women can find grants that are specifically created for them. On this website, it is also possible to obtain the applications for those grants and other details that will help. This is a great way to find numerous specific grants for minority women and increase the chances of getting business start-up funding.
Check out the Small Business Administration
Working with the SBA or Small Business Administration can help minority women receive business startup funding more easily. The SBA keeps readers up to date on grants offered by the government and partners or associates of the SBA. They can provide helpful information about receiving the grants as well as tips and suggestions for business. Their official website can be found at the SBA and there are also local chapters typically available in most states.
Create a Stellar Business Plan
A business plan is a very helpful element for minority women trying to obtain start up funding grants. It is a document which outlines the benefits of the business, who it will serve, what products or services it will sell and more. This document can often be used in the place of a grant proposal. It helps the grant review committee understand the need for the grant and the benefits the grant will provide.
Outline the Benefits of the Business Startup Funding Grant
Another important step in receiving a grant is outlining the benefits the company and business owner will experience by receiving the grant. If the business will help create jobs in the community, provide a place for children to go after school or something similar, there is a better chance that the applicant will receive the grant. Grant reviewers enjoy seeing business schemes that will improve the community and help others. This kind of application will be approved more quickly than applications for businesses that are solely to make money.
Have the Application Proofread
Ensure that all of the information is correct and in the right place before sending it in. This will help ensure that the grant review panel actually considers it. Some panels immediately reject an application for poor spelling or grammar. By having someone they trust look over the application, minority business women can ensure that the information is thorough and correct and improve the chances of being approved for the grant.
Business grants are perfect because those who receive them do not have to pay them back the way they would have to with a loan. Grants provide helpful solutions and can easily be obtained with the right approach. Use the tips and information above to determine what that approach is.