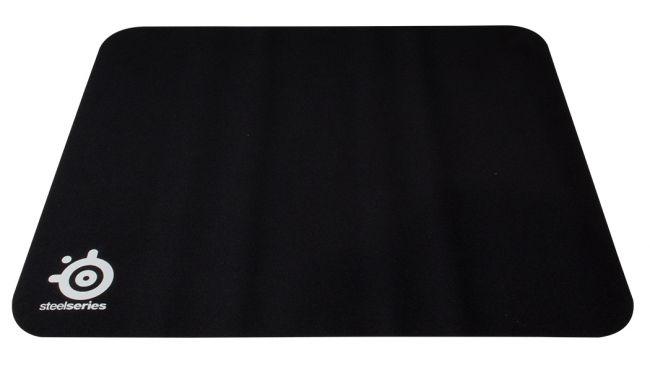 Over time gaming mat has evolved. About a decade ago even the best gaming mouse pads didn't feature wireless charging and then a concept of it would have looked funny, but now these MLG tablecloths have evolved and have come up with all the latest bells and whistles. Today's gaming mats may have same general design, but have neat features like Qi wireless charging as well as RGB lighting.
If you own the best gaming PC and playing the best PC games with the best gaming mice, it is suggested not to settle for less when it comes to gaming mat. However, it is not an easy job to find the best mouse mat for your set up and so, ahead of holidays, we have hand-picked some of the best available in the market. So check out below whether you are looking to illuminate your desk with RGB lighting or else just looking for a slick pad for accuracy and response times to play as pro-gamer. Right here are the top 10 best gaming mats for your desktop computer.
Corsair MM600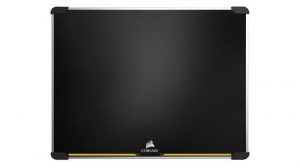 Most of the gamers love Corsair MM600. It is said to be the best gaming mouse pat measuring 147.66-inches square and 13.8 x 10.7 x 0.2 inches (352 x 272 x 5 mm; W x D x H) in size. Its brightly colored lights do not distract users and offers more versatility compared to its pricy sibling. It is equipped with good rubber stoppers to make the mat secure in place so that only the mouse moves and not the mouse mat. It is made of aluminum and sports low-friction surface to boost response times.
SteelSeries QcK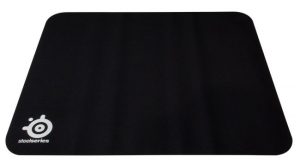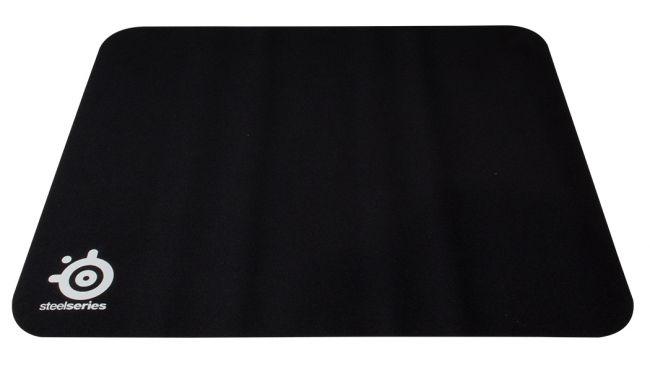 SteelSeries QcK too is considered as one of the best gaming mouse mat that comes in budget. Its surface is 133.56-inches square and size is 12.6 x 10.6 x 0.07 inches (320 X 270 x 2mm; W x D x H). It knows the job very well and does only what gamer want to out of a mouse mat It offers precise mouse control and the rubber base protects the unit from sliding on the desk. Available in different shapes and sizes, the SteelSeries QcK mouse mat also comes in a higher end version with RGB lighting. It is dubbed as Prism.
Cooler Master Make It Yours mouse mat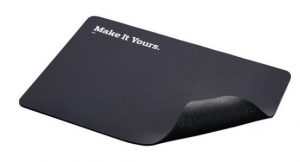 The one line definition of it is that it is a no nonsense gaming mouse mat. It is straight to the business sporting surface of 92.04 and size of 11.8 x 7.8 x 0.11 inches (300 x 200 x 3mm; W x D x H). It offers all of the gaming needs with notable features like low friction cloth surface and nice neutral aesthetic to blend with any setup. It is wide, but not thick and users can freely move the mouse on it.
Razer Sphex v2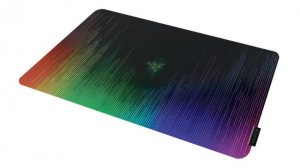 Many gamers dream of having the thinnest mouse mat on the desk and this is one with ultra-thin feature. Its surface is 140-inches square and size is 14 x 10 x 0.02 inches (355 x 254 x 0.5 mm; W x D x H). However, it is important to note it does not come with lighting. For those who are looking for seamless desk surface, this is the best having less than half a millimeter in height and equipped with polycarbonate surface for durability. It is perfectly optimized for optical or laser gaming mouse control.
Roccat Hiro+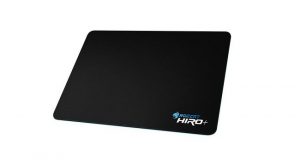 This piece of gaming mat is engineered for greatness. It is equipped with surface of 111.2-inches square and size of 13.78 x 8.07 x 0.09 inches (350 x 205 x 2.5 mm; W x D x H). It lacks lighting and is a bit costly for a mat without RGB. However, there are some good features too. Its top is covered in a vulcanized silicone surface having a 3D structure for greater gaming speed and accuracy. The base has good grip and edges are rounded for a smoother profile. It is a bit water and grime resistant. The coating helps in easy cleaning.
Corsair MM1000 Qi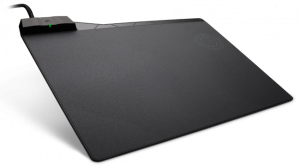 Corsair MM1000 Qi has a super cool USP. User can charge phone while playing. Its surface is micro-textured hard and comes with size area of 350mm x 260mm x 5mm (W x D x H). It is also considered as one of the best gaming mouse mats.
Razer Goliathus Chroma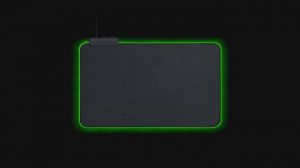 The Razer Goliathus Chroma mouse mat is soft and shiny with surface area of 140.6-inches square and size area of 13.99 x 10.05 x 0.12 inches (355 x 255 x 3 mm; W x D x H). It has no USB pass-through and is not a rigid piece of plastic.
Corsair MM800 RGB Polaris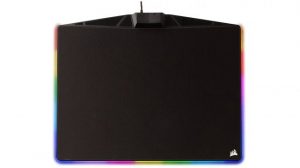 The Corsair MM800 RGB Polaris gaming mouse mat is well liked for customizable RGB lighting enthusiasts. It comes with a surface area of 139.7-inches square and size area of 13.7 x 10.2 x 0.2 inches (350 x 260 x 5mm; W x D x H). Undoubtedly it has a fantastic RGB implementation and have a low-friction finish for quick and precise tracking across the surface.
Asus ROG Scabbard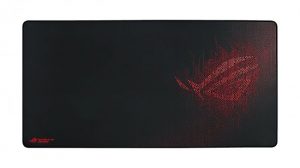 The Asus ROG Scabbard is a rugged giant mouse mat with surface area of 613.65-inches square and size area of 35.43 x 17.32 x 0.11 inches (900 x 440 x 3 mm; W x D x H). It has a non-slip ROG-red rubber base.
MSI Thunderstorm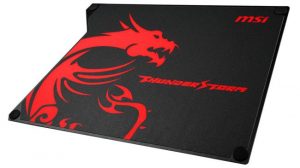 The MSI Thunderstorm is a heavy metal gaming mouse mat measuring 110.88-inches square in surface and 12.6 x 8.8 x 0.07 inches (320 x 225 x 2 mm; W x D x H) in size. It is made of an anodized, hairline-surfaced aluminum material equipped with rubber stoppers to offer good and optimized mouse speed and mouse control while playing.