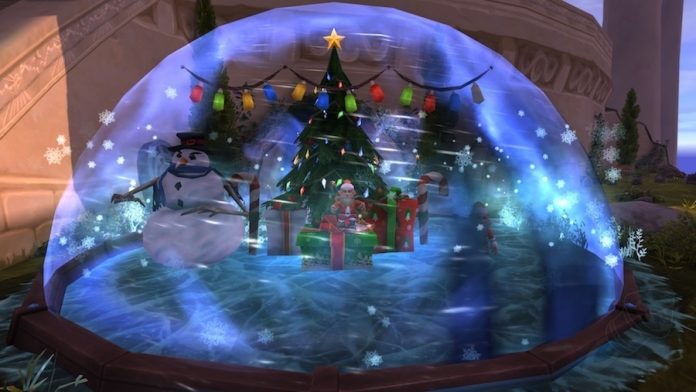 The month of December contains several holidays. Christmas, Hannukah, and Kwanzaa are celebrated in December, and New Year's Eve caps off the month. Popular video game World of Warcraft also celebrates a holiday in December. The Feast of Winter Veil has several Christmas-themed activities, including Greatfather Winter and opening presents under a decorated tree.
World of Warcraft Holiday Achievements
There are several achievements that can only be completed during the Feast of Winter Veil. Some of them involve cooking or eating holiday foods. Holiday Spirits and Winter Spices are needed by the recipes, and can only be purchased during the Feast. With a Little Helper From My Friends is completed by getting 50 honorable kills while in holiday costume. Let It Snow is completed by throwing some snow and a variety of specific race-class combos. The simplest achievement is completed just by opening a present!
Opening Digital Christmas Presents
On Christmas Day, December 25th, players can log into WoW to open up their holiday presents. There are a total of 6 gifts that can be unwrapped, which are located under a tree by Greatfather Winter in either Ironforge or Orgrimmar.
The gifts consist of some holiday food, a pattern/schematic/formula (based on what professions the player knows), a pet, and a limited edition Red Rider Air Rifle. Past years' limited edition gifts have included a Clockwork Rocket Bot and a Crashin' Thrashin' Racer Controller. These special gifts are only collectible one-time during each year's Winter Veil.
Collecting a Winter Hat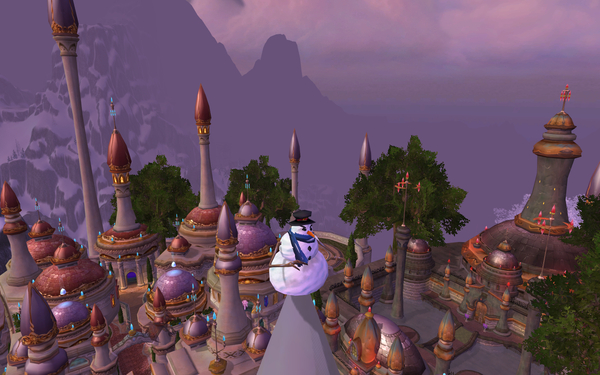 One in-game achievement requires the collection of three pieces of winter clothing. There are five pieces of clothing total, but there are two colors of hats and two colors of outfits, which can be worn interchangeably for the achievement.
The recipes for Red Winter Clothes or Green Winter Clothes can be purchased from the holiday vendor, and crafted by a tailor. The pattern for Winter Boots can also be purchased from the holiday vendors, and crafted by a leatherworker. These items do not bind to character, and can therefore be passed around to friends or guildmates for the achievement, or even sold at the auction house.
The other piece needed, a Holiday Hat, available in red or green, can only be collected by killing certain dungeon bosses. The lowest level boss that drops the hat is Grand Magus Telestra, in The Nexus. The hat will drop for one player on each kill, so a group of 5 players will need to reset the dungeon and kill the boss 5 times for all players to get a hat. The hat is bind on pick-up.
Wearing piece of holiday clothing on head, body, and feet, while eating a Graccu's Mince Meat Fruitcake will complete the achievement 'Tis the Season. This achievement is part of the meta-achievement Merrymaker, which counts towards the What a Long Strange Trip It's Been achievement, rewarding the player with a Violet Proto-Drake.
World of Warcraft players should take some time out of celebrating the holidays to sign in to the game and complete these limited time only events. The Feast of Winter Veil has fun activities for all players, with special items that are only available during late December.
Greatfather Winter and Smokywood Pastures
Sometime around the 15th of December the goblins of Smokywood Pastures set up their sales stands in Ironforge and Orgrimmar. With them they bring Greatfather Winter, a purveyor of gifts for good little adventurers. Not everyone agrees with the commercialization of the holiday, and players can learn more about the true origins of Winter Veil if they wish.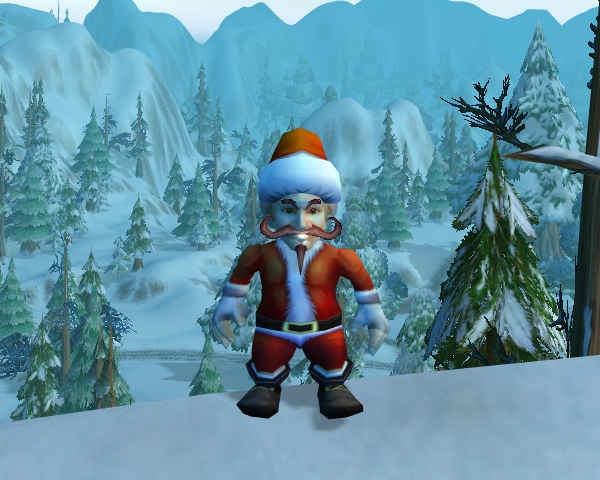 On Metzen! Rescue the Reindeer
As players might expect, Winter Veil quests and achievements make many, ahem, veiled references to real world winter celebrations and traditions. Smokywood pastures, for instance, has a reindeer mascot named Metzen. The name itself is an inside joke—Chris Metzen is Blizzard's Vice President of creative development.
Evil forces have abducted Metzen, and are holding the reindeer for ransom. Of course, no Goblin parts with a copper piece unless he or she has too, so Smokywood Pastures seeks out adventurers for a daring rescue. Players who are working on improving reputation with the Goblins should definitely complete the On Metzen quests, as rescuing Metzen gains players 500 reputation with Booty Bay, Everlook, Gadgetzan and Ratchet.
Merrymaker Achievements
Completing all the Winter Veil achievements earns players the Merrymaker title. Merrymaker is one of the achievements required for the What a Long Strange Trip it's Been achievement, which is awarded to players who complete every world event achievement list in World of Warcraft.
The twelve achievements needed for Winter Veil include:
'Tis the Season: Wear three pieces of Winter Veil clothing and eat a Graccu's Mince Meat Fruitcake.
A Frosty Shake: Use a Winter Veil disguise in Dalaran to turn into a snowman, the dance with another snowman.
Bros. before Ho Ho Ho's: Use Mistletoe on Alliance or Horde "Brothers."
Crashin' and Thrashin': Crash a Crashin' Thrashin' Racer 25 times.
Fa-la-la-la-Ogri'la: Use a flying reindeer during Winterveil to complete the Bomb Them Again quest.
He Knows if You've Been Naughty: Open a present under a Winter Veil Tree.
Let it Snow: Use a Handful of Snowflakes on a Blood Elf warlock, Gnome mage, Draenei priest, Dwarf paladin, Human warrior, night elf druid, Orc death knight, Tauren shaman, Troll hunter and Undead rouge.
On Metzen: Save Metzen the Reindeer from vile reindeer kidnappers.
Scrooge: Hurl a snowball at Magni Bronzebeard or Cairne Bloodhoof.
Simply Abominable: Retrieve the stolen Smokywood Pastures treats and receive a reward.
The Winter Veil Gourmet: Cook up some eggnog, hot apple cider and a gingerbread cookie.
With a Little Helper from my Friends: Use a Winter Wondervolt machine to turn into a Little Helper and earn 50 Honorable Kills.
Winter Veil ends on January 2nd. The next world event is the Lunar Festival, World of Warcraft's answer to Chinese New Year.