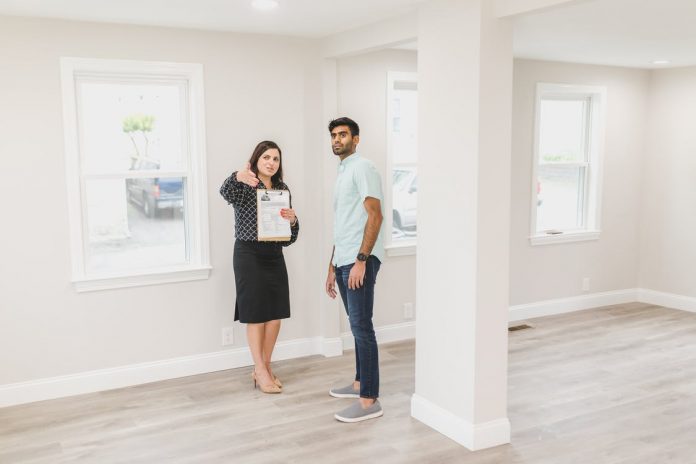 Buying a first home can quickly become overwhelming if one is not prepared. Follow the steps below before making the leap toward home ownership.
Step 1: Get a Free Credit Report Online
Before starting a house hunt, one must know his or her credit score. A good credit score translates into a low interest rate on a home loan, and this means lower monthly payments. A poor credit rating could kill anyone's chances of owning a home. Those with poor credit ratings are rarely pre-approved for loans. If they do receive a loan, they must take those with higher interest rates, and that means expensive monthly payments.
A credit score can be obtained online through sites like Free Credit Report or through a bank mortgage lender.
Step 2: Become Pre-Approved for Home Financing
The process of pre-approval will let a buyer know how much house he or she can afford. Mortgage loan providers look at a credit score and current interest rates to determine the amount of money that can be lent. Shop around when considering mortgage lenders, as some will offer better interest rates and terms than others.
The loan officers will pre-approve a loan for a certain amount, such as $100,000. The pre-approved amount is the maximum amount that the buyer can afford. Due to this, looking at houses that are around 20% less expensive than the maximum will help keep the monthly rates affordable.
Lenders may also offer adjustable-rate mortgages or ARMs. These mortgages offer a low rate for a set time, such as two years, and then the interest rate will fluctuate. Though an ARM may sound great at first, steer clear of these offers. Once the interest rate fluctuates, the payment could skyrocket and buyers could easily lose their houses. Instead opt for a fixed rate mortgage.
Step 3: Use a Mortgage Calculator to Figure the Monthly Payment
Buyers pay for more than the house and interest rate each month. Other factors such as home insurance, taxes and possibly mortgage insurance will add charges to the monthly bill.
Home insurance and taxes are a part of most monthly mortgage bills. Home insurance can be purchased through many different companies, so make sure to shop around for the best rates. Taxes will vary from place to place.
Mortgage insurance is money that insures lenders against any event that would lead to a foreclosure on the house. Not everyone will need mortgage insurance so ask a lender. A realtor should be able to realistically calculate the monthly bill for different properties. Ask them about including home insurance and mortgage insurance in the bill. Realtor.com also offers a mortgage rate calculator that can quickly provide a monthly bill estimate.
Step 4: Figure the Mortgage Down Payment
In addition to the monthly payments, buyers will most likely need to make a down payment on the house. Make sure that enough money is in savings to supply at substantial down-payment on the home. Some mortgages require a 20% down payment but sometimes buyers can get away with making as little as a 5% down payment.
Step 5: Be Prepared for Real Estate Closing Costs
Closing costs include any additional fees that contribute to the sale of the house. Closing costs can range from $2000 – $5000 on average. Some of these fees will be paid to home inspectors. The rest will be used on the closing date for administrative fees involved with obtaining the title and securing the sale of the house.
Know the Facts Before Buying a House
Keeping all of the above tips in mind will help to simplify the buying process. Remember to keep a level head and be realistic about finances. With patience and diligence, the dream of becoming a home owner could easily become reality.