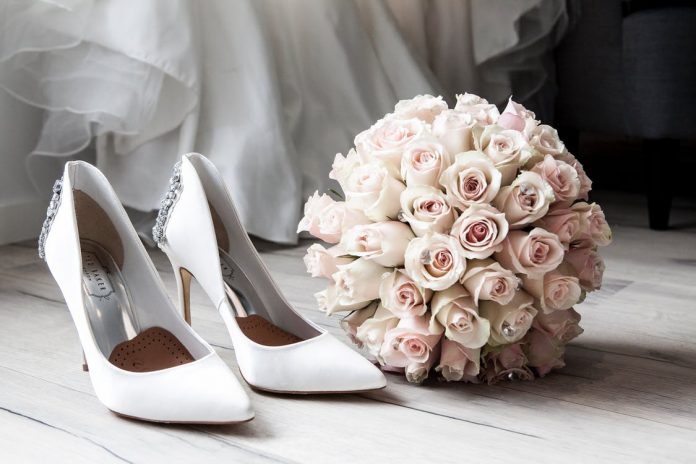 Bridal shoes come in many styles and colors, making them an important part of a bride's complete look. The right bridal shoes should not only pair nicely with the wedding dress, but they should also be comfortable, too. A bride should never have to remember how painful or unflattering her wedding shoes were on her big day. Using the style guidelines and suggestions below, she won't have to.
Heel Height of the Bridal Shoe
Heel height is one of the most important considerations when choosing a bridal shoe. The height of the shoe can create a visual balance in pictures of the bride and groom, and plays a key part in how comfortable the bride's feet will be throughout the day. Some brides opt for two pairs of bridal shoes: a more elegant and height-appropriate pair for the wedding ceremony and a casual, more comfortable pair for the wedding reception.
In addition to comfort, the height of the shoe will affect how the wedding dress is altered. For this reason, a bride should have her wedding shoes purchased prior to the first wedding dress fitting.
Quality and Construction of Wedding Shoes
With all of the costs associated with a wedding, it is easy to seek out savings whenever possible. A quality shoe, however, is well worth the price. When choosing a pair of bridal shoes, the construction should be closely examined.
A good bridal shoe should have a sturdy sole, a comfortable insole, and should not have any embellishments that get in the way of overall fit. While lace shoes may look romantic, they should only be worn if their support and build is exceptional.
Different Bridal Shoe Styles
There are many shapes, colors, and styles of bridal shoes available from hundreds of designers. When looking for the perfect wedding, it is important to consider how that style compliments and enhances the wedding dress and the bride herself. For example, a bride with a larger foot should avoid shoes with an elongated toe. This makes her foot appear proportionately larger.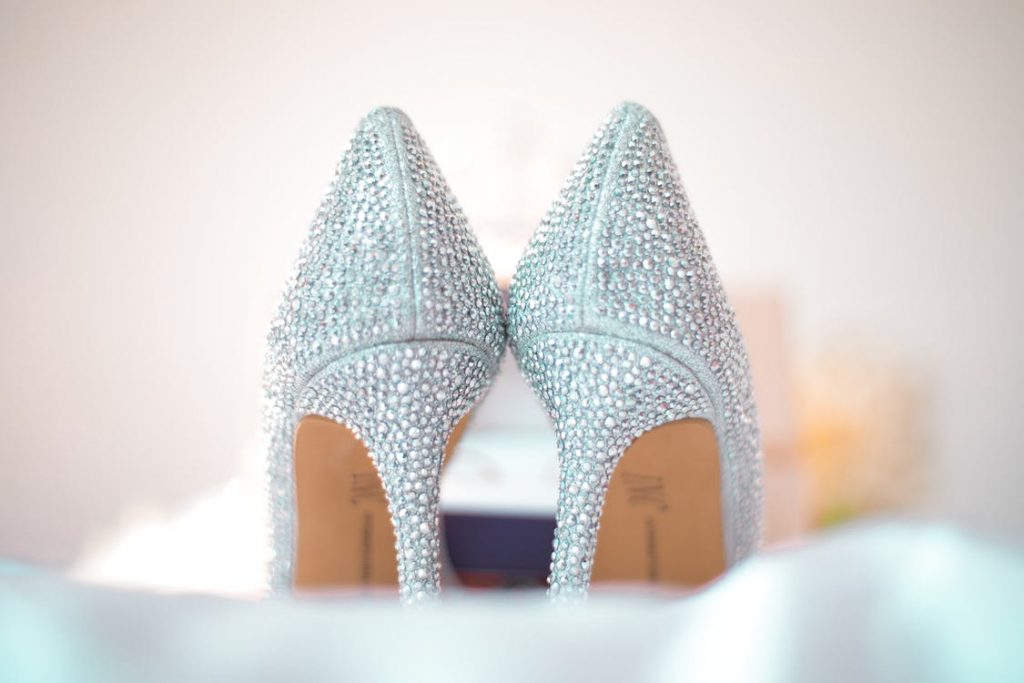 The Classic Pump: An elegant, classic pump is always an appropriate pairing for a wedding dress. Even the more basic of pumps can be embellished to look more like a wedding slipper. Pumps typically have a thicker heel base for more balance, and a slightly rounded toe. While heel height may still be a factor, a classic pump is suitable for almost any bride.
Bridal Sandals: For weddings in warmer weather or on a beach, sandals can provide an elegant alternative to a closed-toe bridal shoe. A beautiful sandal can add an element of romance to sheath dresses, or a fun appearance to more casual wear. Those who need a wide foot bridal shoe, however, may want to rule out sandals, which can be prone to pinching.
High Heel Slingbacks: Sexy and seductive, a high heel slingback is a great warm weather shoe option for brides who prefer a closed toe. The slingback is a great compromise for brides who want something more exciting than a basic pump, but not as revealing as a sandal.
Bridal Mule: Mules slide onto the feet, and their elegant shaping make them ideal for bridal shoe decoration. But, it is important that the bride feel secure while wearing the shoe, as mules can easily slip and slide when worn. The mule would be ideal for a smaller ceremony and a reception that does not have dancing.
Beyond the style and shape of a shoe, a bride needs to pay special attention to the shoe size. All shoe stores have people who can properly measure a foot for the correct size and width that a bride should wear on her wedding day. Once the shoe has been purchased, wearing the shoe around the house for a few hours at a time will loosen the shoe and help break it in.
How To Plan An Inexpensive Wedding
Even though the national average wedding cost is $20,000, you can use some simple tips to ensure your marriage vows happen during an inexpensive wedding. The key is to plan your big day with one basic premise: the quality of your wedding does not depend on the amount of money that you spend.
With this philosophy in mind, anyone can achieve wedding planning on a budget and a big day fit for royalty. Start by developing your budget using an on-line bridal budget calculator.
Wedding Planning on a Budget Means Cheap Reception
If reducing your guest list, the best way to dramatically decrease costs, is not possible, think about how you can provide an excellent meal without facing a huge bill. Think buffet which costs about $15 for each of your guests.
Alcohol is another budget buster. Buy alcohol at a warehouse club store or discount outlet where you can return any unopened bottles. Best yet, weddings for cheap do not serve any alcohol at all, or offer only a cash bar at a reception.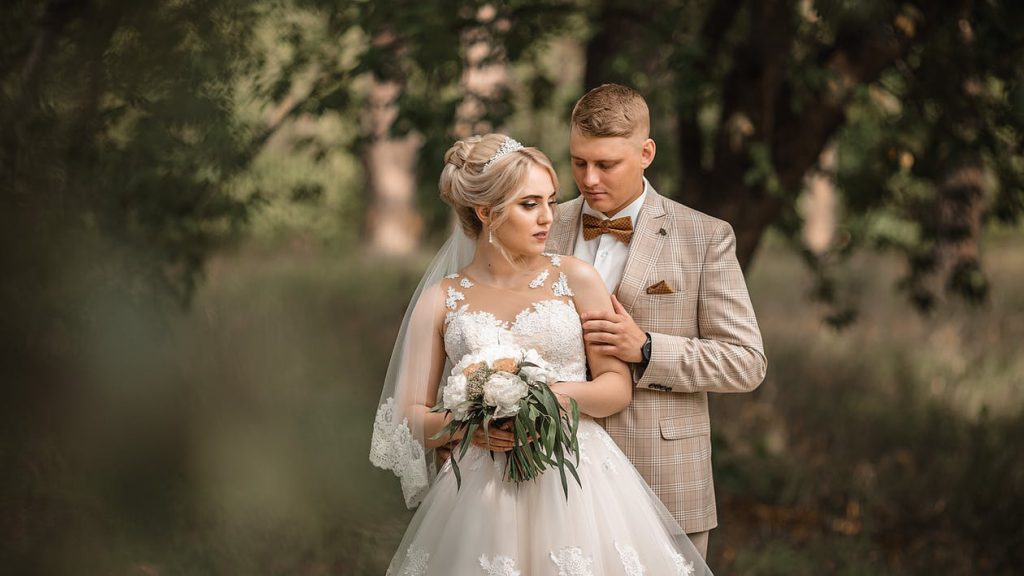 Consider the location of your wedding reception. If you are getting married in the spring, summer or fall, find a beautiful outdoor location. You may be surprised that many places will offer their grounds for free or next to nothing. Historic sites make beautiful wedding spots as do parks and all are cheap reception locations.
An Inexpensive Wedding Keeps Rings in the Family
A family heirloom makes a great engagement ring. You can have the ring reset if needed and take comfort knowing that a family ring is more romantic and meaningful than buying a new, expensive ring.
For your wedding rings, consider the understated elegance of a plain 14-karat gold band.
Wedding Planning on a Budget Includes Vintage Dress
For a truly unique dress, wander the secondhand stores and find a classic beauty. Consider borrowing a wedding dress, particularly if you admired one worn by a friend or relative. Borrowing the dress for your big day is the ultimate compliment to their wedding and yours.
Simple wedding gowns can be inexpensively made by your local tailor or go on-line to find a discount gown and bridesmaid dress store. You can also buy beautiful shoes at a discount store and if the color is wrong, buy shoe dye to change it.
Cheap Wedding Favors, Flowers and Centerpieces
Think simplicity and seasonal for your wedding flowers. Create your own bouquet from your summer, spring or fall garden. Plant some tulip bulbs in the late fall so that when they bloom, you can tie a ribbon around them and carry them down the aisle during your spring wedding. Pick a bunch of wildflowers for your bridesmaids.
At the reception, adopt a do-it-yourself concept for table centerpieces. Use tealight candles, fruit or potpourri in a glass container (available at discount stores) for your centerpieces.
Cheap Weddings Offer Discount Wedding Favors, Inexpensive Cake
Remember that about 20 percent of your guests will not eat cake. Get a small version of the fancy wedding cake that you love to pose for the "cutting the cake" wedding photograph. Serve slices from a large sheet-sized cake that you can buy pre-made from any warehouse store.
Discount wedding favors, such as disposable cameras and buttons, can be purchased at dollar stores or in bulk at deeply discounted prices from big box stores.
Your wedding should be one of the most special days of your life, and getting married on a budget starts your marriage off with good financial planning. Ensure your big day is unique, does not break the bank and creates the happiest memories possible.