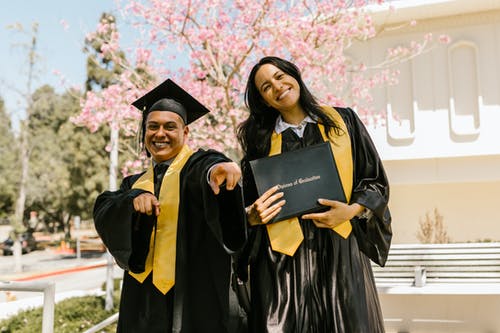 Anyone ever passed over for promotion or turned down for employment in favor of someone with more formal education understands how frustrating that can be. With many employers placing greater emphasis on higher education, adults unable to return to traditional colleges are turning to online universities as a means of closing the gap between their level of education and the expectations of employers. Should employees consider making the effort to earn a degree online? Do employers take online degrees seriously?
The Attraction of Online Universities
Few adults are able to begin a college degree study program at a traditional college campus or return to school to pursue higher level education. Jobs, responsibilities for supporting families and business travel requirements are reasons why even part-time college attendance is often simply not an option. Distance education opportunities are the perfect solution. As a result, many adults are turning to online distance education programs to gain access to needed educational opportunities. These programs allow the flexibility to work studies around competing responsibilities and recent advances in technology have made it possible to obtain vital, relevant advanced education where neither content or quality are sacrificed.
While it is evident that distance education programs exist that can fulfill the needs of adults who want to advance their careers or qualify for new occupations, the question that concerns many is how employers view college degrees earned online. Will earning a degree online be considered equal academic achievement to that of those who earn degrees in the traditional fashion? Will the time, effort, self-discipline and cost of earning distance education degrees be worthwhile, or will those degrees be less highly regarded?
How Employers Regard Distance Learning Degrees
In 2007, Excelsior College of Albany, New York, a private, nonprofit institution of higher education involved in the field of online education conducted a nationwide survey of 1,547 CEOs and small business owners, seeking their opinions on the value of online or distance education programs. The results of the survey, released in 2008, showed that 61 percent of those surveyed said they were familiar with online or distance learning programs. When asked whether they viewed an online degree as credible, 83 percent (more than four in five) of those indicating familiarity with distance learning stated that they strongly agreed that a degree earned via an online program was just as credible as one earned through a traditional college degree program.
In another survey conducted of about 500 Human Resource training managers by Eduventures, a Boston-based education research firm, 62% of the respondents stated that that felt an online education was equal to or better than a traditional on campus education. Results of both of those surveys seemed to indicate strongly that online degrees are earning wider acceptance in the business community.
The Bottom Line on Online Degrees
The fact that online university degrees seem to be gaining respect in the business world is tempered by observations such as reflecting on the opposite side of the Eduventures survey. While 62% of the respondents indicated a favorable view of online degrees, the remaining 38% who did not is a statistically significant number indicating that there are still employers who regard distance learning degrees with skepticism. These may not regard them as valuable as traditional degrees earned on a college campus.
The facts are that many employers for a number of reasons do not consider an online degree as valuable as a traditional one. Some of those in hiring positions are simply not familiar enough with distance learning programs to understand their significance. Traditional programs have been around for hundreds of years, but online programs are still relatively new. Others have the opinion that the level of interaction between students and their peers and teachers that takes place in classroom settings cannot be duplicated online and is an important aspect of the educational process.
And yet others simply base their opinion on the credibility of any degree on the basis of the name of the institution awarding a degree. In this circumstance an online degree is simply not going to be viewed as equivalent to a traditional degree just as a degree conferred by a little regarded regional university is not going to carry the same weight in their minds as one awarded by Harvard.
Accepting the fact that all employers are not going regard online degrees as highly as traditional degrees, in the final analysis it is hard to discount the fact that there are many challenging and highly relevant online degree programs where the necessary skills can be developed to enhance career prospects. The effort and expense of earning a college degree or advanced degree through distance learning would appear to be worth the investment. Online education provides access to needed higher education opportunities that would simply be otherwise inaccessible to many adults.
Making the Most of Distance Education Degrees
Not all distance learning providers are created equal. Only enroll in programs of accredited institutions of higher education. Accreditation is a good indicator of the legitimacy and quality of a degree. Also, distance education programs of study should be taken seriously and the best efforts put forth.
Consider enrolling in a traditional university's distance education program. Many offer them and offer the same type programs and the same flexibility as online only institutions. As Maureen Brown, head of the online division for Lesley University in Cambridge, observed, "Our graduates are getting jobs because they went to Lesley University. The name means a lot. They are not even being asked if they are online degrees."